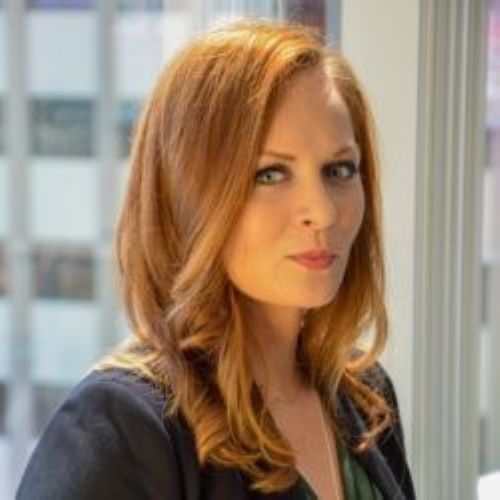 What do you do when you've spent 13 years in corporate law, achieved success, and are deeply unhappy?
Erin Kennedy Clancy knows. Erin is the Staff Attorney at California Coastkeeper Alliance. I had the pleasure of interviewing her about her professional journey. This profile is Erin's story of her career so far, and of how she pivoted into what she calls her dream job.
What was your undergraduate experience like?
I earned a Bachelor of Arts degree with majors in Politics and Legal Studies from the University of California, Santa Cruz ("UCSC"). I attended UCSC after the university declined to offer admission, and I successfully appealed the declination with the support and help of my father.

What was your first job after college?
I went right to law school at the age of twenty-one. While I worked part-time during law school, my first full-time job after passing the California Bar Exam was as an associate attorney at a medium-sized law firm in San Diego, California.
How did you decide to go to graduate school?
I have two advanced degrees: A Juris Doctor ("J.D.") degree from New England School of Law (2006), and a Master of Laws in Environmental Law degree ("LL.M.") from Vermont Law School (2019).
I went to law school as my passion - beginning in the sixth grade - was climate change and more generally the environment, and as I studied my way through college at UCSC, decided that I wanted to address climate change as a career through the lens of environmental law.
What did you do during your undergraduate and graduate summers?
Throughout college and law school, I worked in various industries and positions including as a survey analyst, bank teller, a sales associate at Macy's, legal intern, court research assistant, law clerk, and volunteer mediator.
What was your first job after law school?
After graduating and passing the California Bar Exam – and with student loan payments due – I accepted a position as an associate attorney providing litigation, transactional, and insurance coverage support to corporations and entities with a focus on construction company clients. I was at that firm for nearly nine years and progressed from associate to supervising senior associate to partner at the age of 33.
What was your next job?
For various reasons, I then moved to a law firm in Sonoma County, California for nearly a year, then back to San Diego for a new law firm where I was initially a shareholder, then equity shareholder, until January 2020.
How did you decide to pursue your next graduate degree?
I began my LL.M. program in 2017. I had applied regularly to nearly every environmental nonprofit organization both within the country and internationally, to no avail, since 2005.

My daughter was born in late 2015, and I realized soon after having her that I did not feel comfortable one day telling her to not let anything get in the way of following her dreams if I didn't do everything I possibly could to follow my own.
What was your experience while you were earning a Master of Laws in Environmental Law?
I worked my way through the program at night, after caring for my daughter and working full-time as a partner/shareholder at a law firm. During the two years that it took to complete the program, I stayed focused on my goal of receiving the degree despite increasing pressure at work including handling a trial that went through to verdict, going through a divorce, juggling life as a new mother, and fostering and adopting dogs.
How did you land your current role as a Staff Attorney with the California Coastkeeper Alliance?
Nearly as soon as my LL.M. program was completed and the degree awarded, I received positive feedback on new applications to environmental nonprofit organizations. I had never even received courtesy responses in the past, so I realized immediately that the decision to tackle and obtain this additional degree was the right decision.

I accepted one of the offers and am now able to say confidently that I finally obtained my dream career and job. In February 2020, I finally landed my dream job with a nonprofit organization after working for the better part of thirteen years in corporate law.
What does the California Coastkeeper Alliance do?
California Coastkeeper Alliance uses law, policy, science, and creative media to advance statewide policies and programs for healthy and clean waters. Everyone works remotely (pandemic aside), is incredibly supportive of each other, fun to work with, and provides each other with significant autonomy to perform our work. We are encouraged to advance, handle and complete projects of personal interest that relate to our organization's overarching mission and goals, and we are all involved in the development of the company's annual organizational work plan.
How is your current role a great fit for you?
As the Staff Attorney with the California Coastkeeper Alliance, I lead the organization's state-wide Clean Water Act Enforcement Program and the California Waterkeepers' Legal Committee. I have been able to utilize nearly all the skills I honed as a civil litigator and to combine my experience with my passion for a healthy, clean environment. It feels like a win-win to me!
I should have focused heavily on networking from the start of my career (and frankly, in both college and law school). Instead, and likely due in large part to my introverted personality, I buried myself with work, hoping my successes would speak for themselves.

After beginning to work with Colleen DelVecchio, ArcVida's senior career and leadership coach (and also one of my sisters!) she helped not only with connecting me to people she knew could be fantastic connections but also with developing a networking strategy– down to helping draft emails and LinkedIn messages. She also helped me to significantly improve my LinkedIn profile, cover letters, and resumes. Without a doubt, I would not have the dream job I have now without her guidance, support, and compassion.
What are some key personal lessons about creating your own career path?
🗝 Follow your dreams. While cliché, I legitimately never stopped following my dreams.

🗝 Outward success does not equate to happiness. I had all of the outward success for many years and was truly unhappy on a personal level.

🗝 Push yourself harder. My dream career came from pushing myself even harder through going back to school while working full-time and with a baby at home,

🗝 Get expert guidance. I landed my amazing role after working with Colleen, a terrific career coach.
Connect with Erin on LinkedIn or Follow Erin on Twitter
----------------------------------
Learn How ArcVida Can Move Your Career Forward
Get started with ArcVida by discovering your career Archetype! Your archetype will set you up to receive personalized career guidance from ArcVida mentors and leaders.
Schedule your free strategy call today to share your career situation and learn how ArcVida can help move your career forward.
Published on 12/15/2020