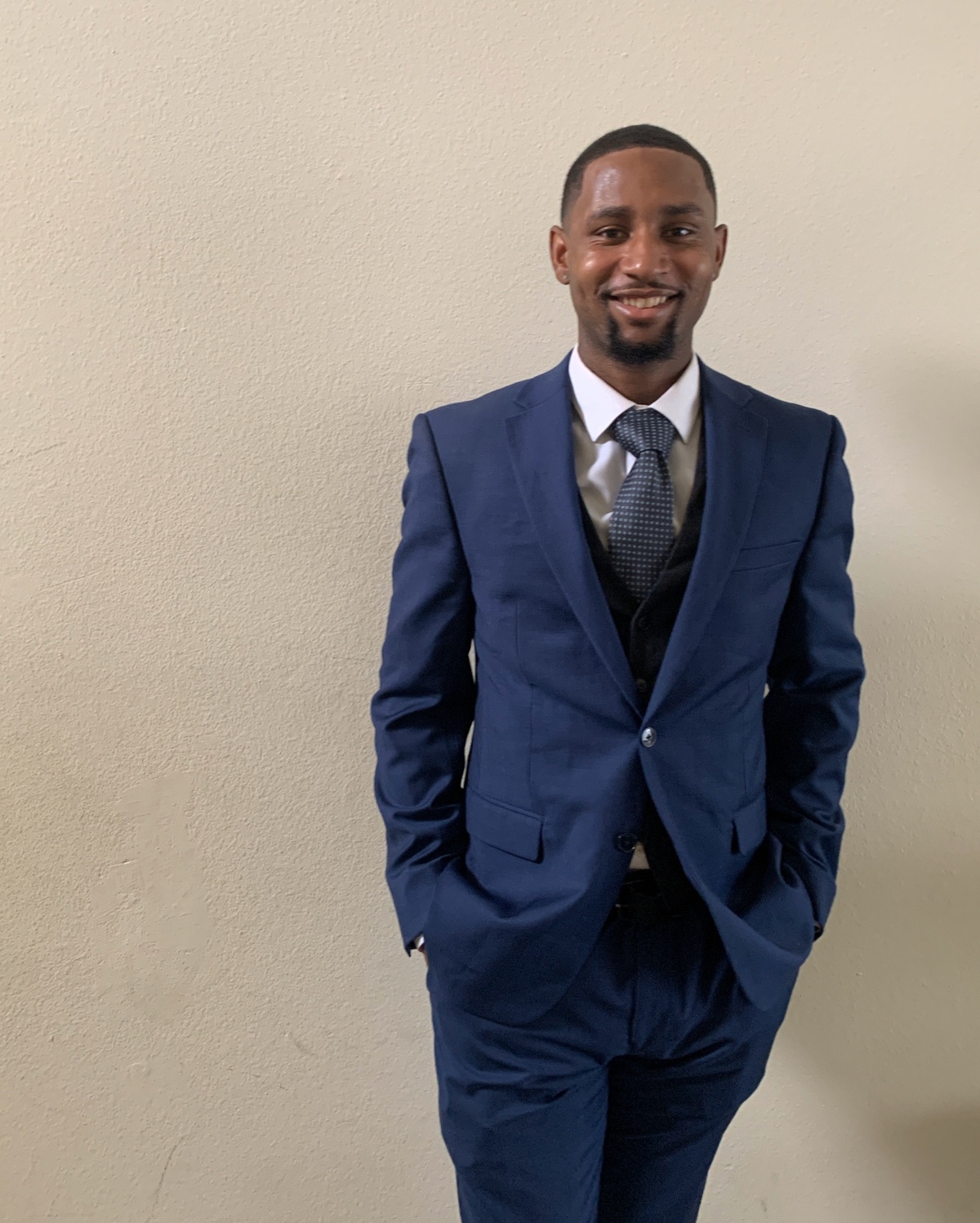 Caption: Ronell Miller, founder of marketing company HBCU Startups. Personal photo; all rights reserved.
I met Ronell Miller at a Founder Gym gathering last year. I was taken by his drive and energy. Ronell's path to his current role as a founder of marketing company is an interesting one. I hope you enjoy reading about his journey so far!
What was your undergraduate experience like? Major, university, minor, extra-curricular involvement?
My undergraduate experience was great! I moved to North Carolina from California to attend North Carolina Agricultural & Technical State University. During college, I was highly active in various organizations: I was a communication tutor, Residential Assistant, Multicultural Ambassador, the President of the West Coast Aggies, and so much more. In my free time, I traveled across the US and I visited various friends on other college campuses to see how their experience was. I'm glad I did that because I think it shaped a lot of my mindset today. I earned my degree in International Business.
What did you do during the summer? Any jobs or internships that were noteworthy?
During the summers, I spent time with family and worked. My favorite college summer was one I spent studying in Paris; this summer opened my eyes to an entirely different world. Paris has a lot to do and so many people around the globe visited for vacation.
An internship that was noteworthy was with the Congressional Black Caucus Foundation. I met so many people from that and the worked pushed me out of my comfort zone. I also gained confidence in speaking about the change I wanted to see in America.
What was your first job after college?
In my first job after college, I was an Executive Assistant to a CEO of a mid-size level IT contractor that placed professionals into positions with the FBI, USPTO, and other government agencies.
In what ways was it a good fit?
It was a good fit because I got to learn how demanding it is to be a CEO. I also learned that taking control of your time and the people you want to do business with is a major priority. I saw that as a CEO, if you don't set your foundation, other people will try to set it for you.
During this time, I got to learn about the work of human resources. The main lesson from this time is that when you treat employees well they will work to ensure that your business is successful. Everything starts from pleasing employees - no matter what.
And in what ways was it not a good fit?
In some ways this assistant job wasn't a good fit because some people didn't appreciate that I had a direct role with a CEO who used to be a former CIO of the FBI, as my first job after college. While I was there the United States had many polarizing issues. I wanted to get involved in politics and that is what I did. So I left this company to transition into a financial role in politics.

When did you start learning marketing skills? How did you learn them?
I started learning marketing skills when I was in college. I took some marketing classes. Also, I would do some freelance work for people trying to ramp up traffic for on or off-campus event. Since I was in various clubs, I started to look at those organizations as different niche communities. Sometimes people would like me to bring certain organizations together for a common cause. I started building collaborative partnerships and never lost that skill. As I did this work, people would ask me for other marketing services like graphic design, finding key social media influencers, and creating and running targeted advertisements.
How did you decide to start a marketing company? Your major and other jobs don't make this seem obvious.
I started a marketing company because I've always done marketing behind the scenes. When I interned with the Congressional Black Caucus Foundation, I helped the marketing team by directly contacting past donors. I also worked with the marketing team on implementing the application for all vendors for the Annual Legislative Conference.
My catalyst for starting HBCU Startups was seeing that HBCU business stories were not being highlighted consistently. Often, when people think of great business success they look at alums of universities Harvard, Yale, MIT, Stanford. However there are great business and technical talent alums of HBCUs. My vision was creating a platform focusing on talented HBCU alumni that connects people to more opportunities. Also, the online marketplace that we have built is important because it's a central location to find these businesses and connect with them directly.
What does HBCU startups do for companies in the marketplace? I.e. How does the company support marketing?
We help leaders market business online with social media management, products sales on our market place and blogging support. We also connect leaders with people in our network for mutually beneficial partnerships. Also, we refer other media companies with larger outreach that also share business stories.

Leaders affiliated with HBCUStartups are the first to learn of our events that can give them more knowledge and connections. Something new we've been doing as well is hosting monthly workshops on how increasing e-commerce sales. Now is a time more than ever that people are shopping online. We guide them to draft clear messaging to shine through all of the online clutter.
What are the main revenue-generating activities of your business today?
Our main revenue-generating activities are the marketplace, producing virtual events, ad placement, and digital marketing. We really enjoy digital marketing clients because we interact consistently as their social media managers.
What's your vision for HBCU startups in the future?
My vision is to try to guide buying habits within the HBCU community toward HBCU startups as a first source to buy from more people with similar backgrounds.
As we circulate more dollars within the HBCU community, we raise more funds from our subscription model to donate to universities. We have a partnership with the HBCU Business Deans Roundtable . When a Business Dean refers businesses to us, that university earns a percentage of our subscription as a donation to their school for student fines, scholarships, and equipment. Each Dean specifies how the earned funds are directed, supporting their school's specific needs.
We plan on hosting more pitch competitions for businesses to connect with investors. Our vision is to become a premier incubator - providing resources for new businesses and supporting long-term success. We want to create sustainable businesses that can succeed in any economic environment.
Lastly, there's over 300,000 students currently enrolled at an HBCU. Our message to these students is that it's normal to build businesses with people that look like them and easy to buy products and services from this community. This community spends billions of dollars annually; as we evaluate this spending as a community, we can bring more revenue and create equity for its businesses. If we can shift a generation to #BuyHBCU we can create an economic shift in the Black community as HBCU students and alumni have always been on the forefront of movements in this country. I think in today's social environment people are starting to think about wealth and where they fit in this economic system. In 2020, we've seen massive layoffs and companies shutting down; with the Covid pandemic, we are in the middle of a massive digital revolution. HBCU Startups is preparing HBCU students and alumni with the marketing tools and platform to succeed in today's startup arena, as individuals can use skills and innovation as a key to acquiring wealth.
Why and when did you transition into entrepreneurship?
I transitioned into entrepreneurship when I was working my finance position in politics. I've always done some sort of marketing freelance work, so I wanted to make something official and that is how HBCUstartups was born. During the nights or weekends, I had time to build out a platform for people to connect. HBCU startups is a marketing company that highlights college graduates that have businesses in the HBCU community. The company has an online marketplace for businesses to sell products and also provides business strategy, social media marketing, and event production.
How is being an entrepreneur a great fit for you?
Being an entrepreneur is a great fit for me because I get to work at my own pace. When I worked on political campaigns, I didn't control my own schedule. Clients can be demanding and fundraising can fluctuate so rapidly. Also, I get to choose who I want to work with and like to choose people that align with goals that I have.
Creating something from scratch excites me. I'm driven by creating the narrative rather than by agreeing with a narrative that seems forced fed. Creating narrative is the root power of communication and marketing. I believe we can create lasting change on the globe through sparking passion in others.
What are your experience and results from networking?
Networking early with organizations I admire has brought me more business. Also, networking has opened doors to rooms that I would never have imagined.
When you treat people well and speak highly of them in rooms they're not in, they tend to do the same for you. I've established business partnerships just from being in similar professional circles.
What are some key personal lessons about creating your own career path that you'd like to share?

When creating your own career path, first figure out the things that you love. Also, look at the issues in the world that you want to change. I believe if you find a healthy balance between those two things you can change the world for the greater good.

Don't worry about what people think. It's your life; you only get one. Some people stall and wait for years before chasing the work they want to do. Regret is an extreme poison and when you're not happy in life you can propel that poison unto others.

We are currently in the middle of a digital revolution and people are going to be able to survive this with their skills. So when someone asks you what you do, it's important that you be able to quantify and display your skills by showing your past work.

Last, finding time for work can be good, but you need balance in everything. Your health should always be your priority; without it nothing else matters. Take care of you and the people you love. Business isn't going anywhere.


----------
Follow Ronell's company on Instagram or Facebook. Connect with him on LinkedIn.
Feeling Stuck in Your Work?
Get started with ArcVida by discovering your career Archetype! Your archetype will set you up to receive personalized career guidance from ArcVida mentors and leaders.
Published on 7/9/2020