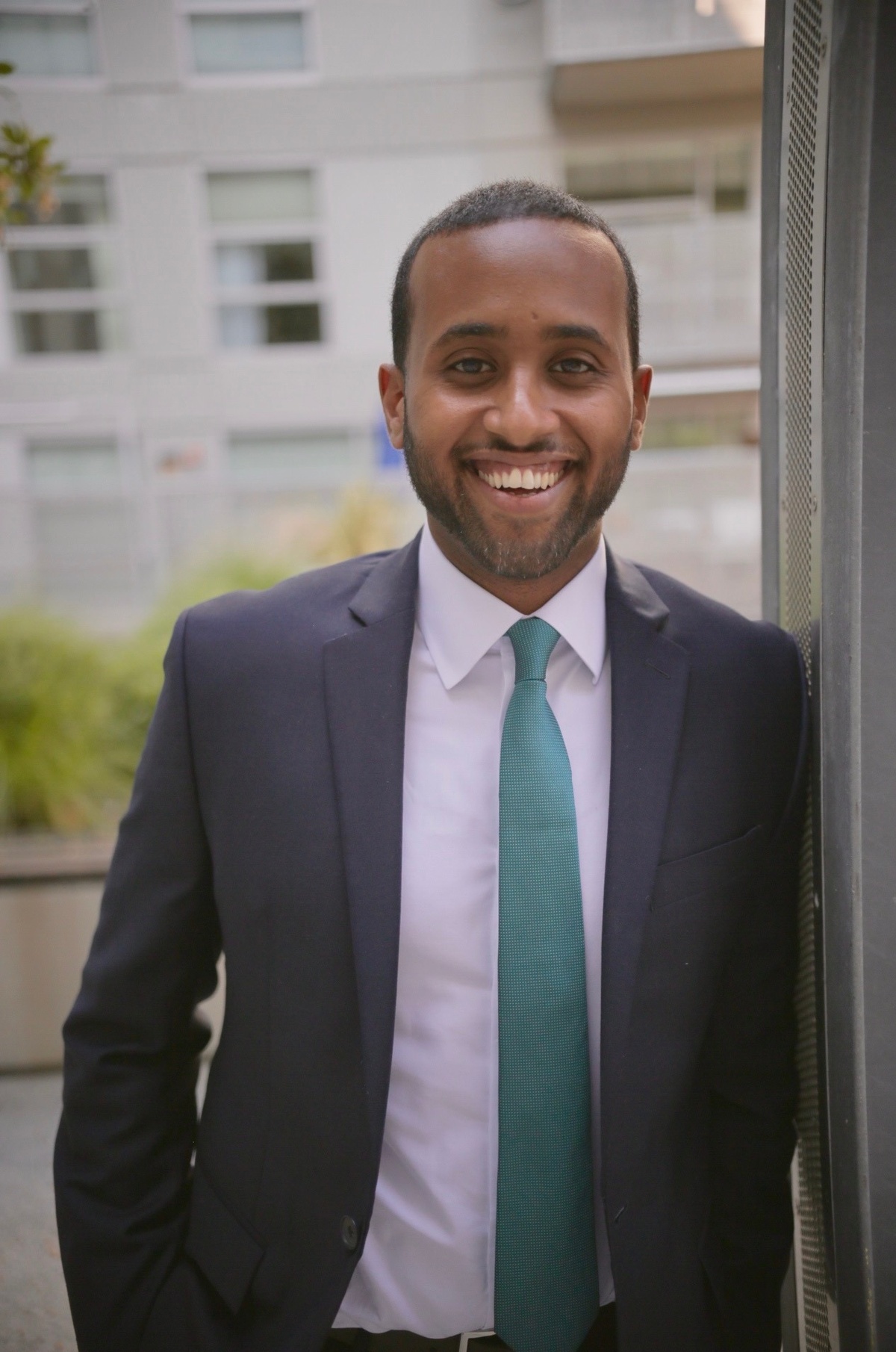 Photo: Mickey Solomon - personal, used by permission. All rights reserved.
I met Mickey through a casual conversation set up by fellow Trojan Samira Modaressi's MBA Cafe - which facilitates casual networking for the student and alumni community. Mickey is currently working full-time as he earns his MBA at night and on the weekend through Marshall's MBA.PM program. I found his story intriguing, and while he shares it with a confident acceptance, I was struck by how hard he's worked to get where he is now.

About Mickey Solomon
Grit, failure, false starts, mentoring, long commutes, global and cross-country moves and networking have contributed to his career success. I hope you enjoy learning about Mickey's journey as much as I did!
Name: Mickey Solomon
Job Title: VP, Business Manager
Name of company: MUFG Bank
What does your company offer that appeals to college graduates in their 20s & 30 & 40s?
At MUFG, you'll find an inclusive work environment where diversity is integral to the way we do business. It's not only embraced, but encouraged—in people, thought, and action. Our culture is rooted in our values, not the least of which are integrity and respect. By remaining steadfast to these values, we have built a dynamic workforce with the power to grow our business, retain satisfied and loyal clients, and create meaningful and prosperous professional relationships. Clearly that's a PR quote, but that's been my experience too; I really enjoy the people I work with and respect the company too.
How has living abroad shaped who you are today?

Living abroad definitely shaped who I am today. I was born in the U.S and at the age of seven I moved to Ethiopia. I learned how to speak the local language (Amharic) and after finishing junior high, I came back to Los Angeles to start high school. As I assimilated back into the American culture, I started seeing similarities and differences between other students and myself. Those were formative years for me. As a professional, I think cultural competence is important in today's workforce and living abroad expanded my horizons and my ability to be tolerant of other attitudes. My parents, being Ethiopian, taught me at a young age that humility is an admirable quality to possess. But living in the United States, I learned somewhat quickly that being aggressive and outspoken is desired. It wasn't until later in my life that I came to this realization, that these opposing values, used interchangeably, benefited me in my career.
What was your undergraduate experience like?
I had a hard time adjusting to college. I felt disconnected and I struggled to develop good habits like time management and prioritization. I really didn't anticipate the academic expectations. I ended up leaving college, and although going back was always the plan, I stayed out for 3 years. I decided to go back because I felt that I could do so much better and I was mentally exhausted working odd jobs that led to nowhere.
I changed my major three times along the way. During my freshman year, I was a liberal arts major, after a year I wanted to follow my uncle's footsteps and go into civil engineering. I finally settled on business administration after I took an Intro to Business course. I was hooked and concentrated in International Business because it allowed me to see the big picture when it comes to business issues and their solutions. I earned my BA in International Business from Berkeley College.
One of the advantages of taking classes in New York City was just being exposed to business – it's literally everywhere. The city was just vibrant, full of movers and shakers, and their energy motivated me. It pushed me outside of my comfort zone. I worked two jobs to make ends meet. My first job, I had randomly applied to Capital One and I was hired to work full-time as a corporate dining server in the daytime. My second job, I worked at an Ethiopian restaurant in Brooklyn called "Bati Kitchen". These two jobs taught me how to interact with people, work as a team, and build thick skin. No other industry can teach valuable life lessons like the hospitality industry.
My work started at 6:30 am every day and it instilled in me, to this day, the importance of waking up early and the benefits of productivity. I would talk to the president of the bank about his weekend, and naturally felt comfortable engaging professionals at a senior level. My undergraduate experience taught me how to balance work, school, and life and exposed me to different people from all over the world.
What did you do during the summer? Any jobs or internships that were noteworthy?
I was a working student, so I picked up more work shifts during the summer. During my senior year, I was offered a full-time role to be a senior coordinator and my responsibilities expanded at Capital One. It was the first time I was a supervisor and I managed 4-5 other employees, who were 15-30 years older than me. It was a challenging task and I had my hands full. I learned how to not micromanage and give my direct reports the freedom to be creative and they sure did surprise me!
A few months before I graduated, I started inquiring about various roles in the bank through an executive, Colleen Taylor. Although now she is the EVP, Head of Merchant Services at Wells Fargo, Ms. Taylor was then an EVP and Head of Treasury Management and Merchant Services at Capital one. She became a true mentor by coaching and empowering me to succeed. She helped set up my first interview and with her help, I secured my first job out of college as a Client Service Specialist at Capital One. As a Black executive, she opened the door for me. The value of her mentorship was priceless, and I wouldn't have achieved the same success without it. It's really important to me that I "pay it forward" by mentoring others.
For Black professionals, mentorship is super important because it gives them access to leaders. They can see how they think, how they approach things, and their overall experiences getting to where they are today. I will continue to hold that door open for other Black professionals who otherwise would not get that kind of opportunity.
What was your first job after college?

In my first job, as a Client Service Specialist at Capital One, I was on live calls assisting clients who were in the commercial banking segment. I helped clients with technical issues on their cash management platform. At the time, I lived in Harlem, New York, and did a reverse commute to Melville, Long Island, which was two hours each way. I would wake up at 4:30 a.m. and come home at 7:30 p.m. every day. My desire to learn and grow motivated me and brought me pleasure even though it was rough. Over the following few months, I settled in and learned about internal and external business practices in the treasury management department. I started taking on more responsibilities; my extra efforts paid off when I was promoted after a year in the role.
In what ways was it a good fit?
My first job was a good fit for me because it developed and strengthened my communication skills. Working in the service industry helped me clearly understand and articulate my expertise. I also have empathy for people. When people called the customer service line and started yelling because they were frustrated or unhappy, I knew that I was not the problem. They were just having a bad day and I knew how to communicate accordingly.
My wife Veronica always jokes that I am the most patient person in the world! She is probably right. Being patient is such a key trait for a customer service professional. Patience is important to keep the conversation on track, remain personable, and provide a positive experience. I had the hunger to learn everything, and if it was technical, I would double down. I was willing to put the time in to learn and effectively apply it to solve problems. Combining technical and industry knowledge helped me excel in my first job out of college.
And in what ways was it not a good fit?
Being on the customer service line where live calls came in at any moment was challenging. I have so much respect for customer service professionals; I know what it's like to be in a high-volume customer service environment. For me, the repetitive nature of handling one call after the other was draining. I am such a meticulous planner and at the moment it felt like a gift and a curse. I knew I could offer so much more to the company, but it was challenging because it required time and work to be an expert. I was so excited to learn more about finance and banking, but I was limited to my job scope and there weren't any shortcuts. Once I gained the communication and analytical tools I needed, I was ready to move on and learn more professional skills.
How did you decide to leave Capital One for your role at Bank of America?

I left for a few reasons: curiosity to learn new things, career growth opportunity, mentorship, and an opportunity to move to San Francisco to work for a global bank.
Why and when did you transition into your next job? And the one after that?

Currently, I work as a Business Manager at MUFG, where I work on business strategy, performance management, and internal reporting for Transaction Banking. Prior to this role, I was in business development where I helped generate leads for companies within the middle market segment. During my time in my business development role, my manager and I worked on side projects that helped us expand in new markets. This experience really helped showcase the skills I was learning in business school. Showing the management team that I cared about the work and working beyond the expectations for that role helped me move into my current position.
How is your current role a great fit for you?
I find my role to be a great fit because I'm constantly collaborating with diverse teams where I can influence business decisions daily. On a normal day, I could be working with the technology team regarding data mining or discussing sales forecasts with my manager. I never stop learning and sometimes I learn on the job, which is part of the work. Unforeseen situations are normal. I challenge myself to be better by identifying areas for improvement and efficiency. I've only been in my role for a few months but, I love what I do because I am confident that my work is contributing to improving our business
How did you decide to go to graduate school?
When I applied to graduate school, it was an important time in my life. I was hungry to grow and expand my business skills, and I knew business school was the place to be. While I was working at Bank of America, I emailed a few senior-level professionals to chat over coffee and they shared their amazing experiences in business school. I knew I could create memories for a lifetime while learning new things that would help me grow as a person. Professionally, I believe that the time coincided with a need for me to develop in the business world, but more importantly, I saw an opportunity to lead in my Ethiopian-American community. By going to graduate school and accomplishing my goals, I can help mentor those who are in need and who've had similar experiences as I have.
Have you had have any key experiences in graduate school?
Meeting students from different backgrounds, culturally, and professionally has helped me gain a broader, more diverse perspective. Collectively we bring unique insights to the table and during group projects and class discussions I really see the different approaches a diverse team uses to solve a problem.
Another key experience in graduate school was going to Ethiopia with my classmate Jay Modi. We had an opportunity to travel to Ethiopia in November 2019 and to attend the 2019 Annual Africa FinTech Summit. We were able to meet disruptors, technology and finance professionals, regulators, and investors from across Africa, Europe, and the U.S and discuss technologies revolutionizing finance. Coming back to campus and sharing my learning from that amazing experience with my peers felt great as I was able to educate people about growth and opportunities in Africa.
What are your plans after finishing graduate school?
I plan to start an investment fund focusing on the FinTech space in Africa. There are so many opportunities on the continent and it is still in the early stages of growth. With about 1.3 billion people - with an average age of 19 - Africa is ripe for growth. Just ask Jack Dorsey (CEO of Twitter/Square); prior to the pandemic, he was planning to move to Africa for six months!
My focus with this fund will be finding solutions to critical problems. There is so much potential to change the financial landscape of Africa. The continent has cell phone ownership of 44% and about 60% of the population is under-banked. There is a real opportunity here to make a positive change in the lives of millions of people by connecting them to the right resources and education. I want to be part of the solution and do whatever I can to reduce poverty levels across Africa. Going to Annual Africa Fintech Summit in Ethiopia opened my eyes to the African tech ecosystem and the explosive growth that is close. It's an exciting space and I can't wait to be a part of it.
What are your experience and results from networking?
My career is a consequence of meeting the right people at the right time. Making a connection with my mentor at Capital One was by far the biggest step in my transformation as a professional. It is so important to get out of your comfort zone and meet new people. I chose USC Marshall to build my network because USC prides itself on the Trojan Network. Before the pandemic, you could always find me at "The Lab" (for anyone not familiar, it's a grill/bar just across campus), mingling with my core classmates or with other core students. During the pandemic, I have been constantly reaching out to my classmates and schedule 3-4 zoom calls per week to see what they are up to, and how I can be of help. I truly believe networking is about approaching it with a "give first" attitude.
I am constantly trying to meet new people through the USC's MBA Café Program, where current students and alumni randomly pair up and chat about their professional/personal life. I've met some great people these past two years at USC Marshall, and I genuinely feel that these are lifelong friends.
What are some key personal lessons about creating your own career path that you'd like to share with ArcVida's jobseekers?
I share my story because I know many people navigate similar emotional challenges in college or in their careers. However, with the right guidance and mentorship anyone can accomplish their goals. I've been fortunate to mentor and guide young adults in overcoming difficult obstacles they face in life. I came from a difficult background, and know first-hand that navigating the corporate world is not easy.
My key piece of advice would be that it's okay to fail. I have failed countless times because I overstretched and overestimated myself.
Not every failure helped me become successful. But each taught me how to be patient, persistent, and most importantly how to humble myself. My failures have inspired me to use the lessons learned, however painful, and apply them to my next venture.
I urge everyone, to find your unique talent and share it with the world. Let's grow together.
You can connect with Mickey on LinkedIN and follow him on Twitter.
----------------------------------------
Are You Feeling Stuck in your Career?
Get started with ArcVida by discovering your career Archetype! Your archetype will set you up to receive personalized career guidance from ArcVida mentors and leaders.
Published on 8/24/2020