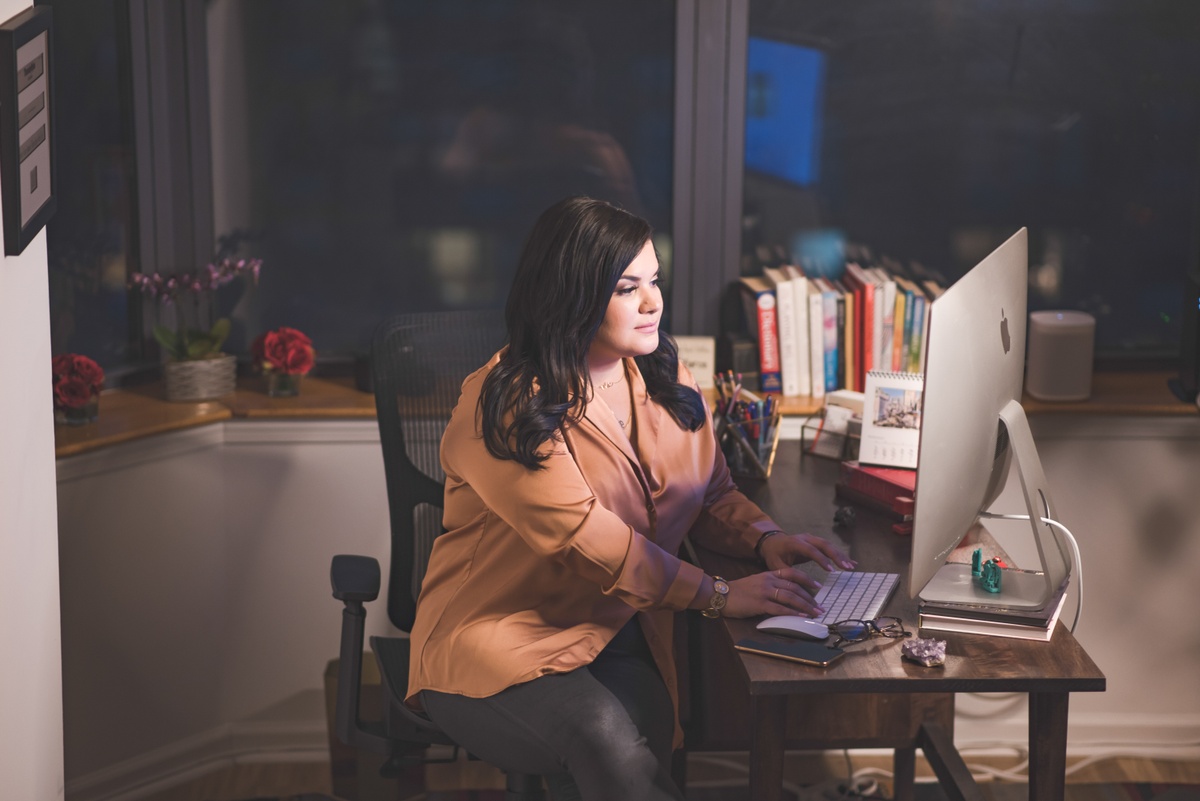 I first met Vix Reitano, when I was a guest on her podcast The Get! In addition to her podcast, Vix is the founder and CEO of 6boro (Social + Studios), a branding and digital marketing company based in Hoboken, New Jersey that supports large and small brands worldwide. She strives to be an inspiration for people driving their own career and business momentum. I admire this intention and her irreverent, high energy! When I met her, I knew I wanted to share her background here too.

Most entrepreneurs start their careers in full-time, paying roles working for an organization - which is a great way to develop your marketable skills while you identify and understand problems that you can solve. That's some of Vix's story too.

What was your undergraduate experience like?
I was a journalism major at Quinnipiac University. My minor was history and I was a founding member of the alt-student newspaper, of the ADPi chapter on campus, part of the Young Democrats and President of Lamda Pi Eta, the Communications Honor Society — I always did "all of the things" and it has ALWAYS paid off for me.
What did you do during the summer? Any jobs or internships that were noteworthy?
I worked as an Intern for Time Inc's This Old House Magazine and Fortune Small Business from junior year until the day before I graduated in senior year. It was amazing!
What was your first job after college?
I was a local editor for AOL's patch.com in Commack, New York. It was a good fit because I'm curious by nature and creative by design. I made a great reporter and loved what I did. However, the leadership and management teams didn't know what to do with passionate, driven creatives. And, the culture wasn't aligned with my work style.
How would you characterize your work after leaving Patch.com? How did you land your various roles? And, what skills do you learn then, in those interim roles that you use in your current work?
After leaving Patch.com, my work was in a fast-paced environment that allowed me to learn a lot quickly and understand a bigger picture than the one piece of the pie for which I was responsible. That work was exactly the foundation I needed for my company and current work. 6boro is a boutique agency that offers a bespoke solution to strategy, content/video production and media buying... the "bespoke" is me and the "solution" is what I learned in my time in TV after Patch.com
Why did you decide to start your agency? How did you take the leap – all at once, or as a side-hustle?

I decided to start my agency because I was exhausted - exhausted by the way I and many others I worked with were treated, by the work we were pushed to do and by the things we were pushed to ignore. I took on my first client officially over Memorial Day Weekend 2015 and by July 4th, I had matched my full-time salary and decided to take my agency full-time. It was six weeks to six figures and it was exactly what I needed for an explosive start. Those principles are what I teach my coaching clients and what I come back to repeatedly as we grow the business.
What is 6boro?
We are a social media marketing agency, a digital branding + management firm, a content production house and a paid media advertising agency rolled into one.
We provide strategy, content production, and execution + management to DTC, B2C and B2B brands, entrepreneurs and influencers in the wellness, fitness, hospitality, fashion, beauty, non-profit, home and pet care spaces. When it comes to content production, we focus on lifestyle, e-commerce, tabletop, flat lay, product and branded photography + videography with the objective of building a community of engaged followers who know, like and trust you, and your business, so that they become customers, clients, and loyal brand evangelists for years to come. 6boro also provides social media coaching services for entrepreneurs, as well as internship opportunities and mentorship to entry-level and junior professionals.
How is your current role a great fit for you?
I LOVE being the boss. I love driving strategy and doing different things every day. And I love closing business.
What are some key personal lessons about creating your own career path that you'd like to share with jobseekers?

Be passionate.

Be patient.

Be Hungry.

Don't ever be humble — no one will promote you or highlight your accomplishments like you so go out there and promote yourself. And if you're a woman or a member of the BIPOC/LGBTQIA+ communities? Do it twice.
Connect with Vix on LinkedIN or follow 6boro on Instagram!
-----------------------------
Do You Feel Stuck in Your Career?
Get started with ArcVida by discovering your career Archetype! Your archetype will set you up to receive personalized career guidance from ArcVida mentors and leaders.
If you're feeling stuck in your career or are actively searching without great results, schedule your free strategy call today.
Published on 9/11/2020