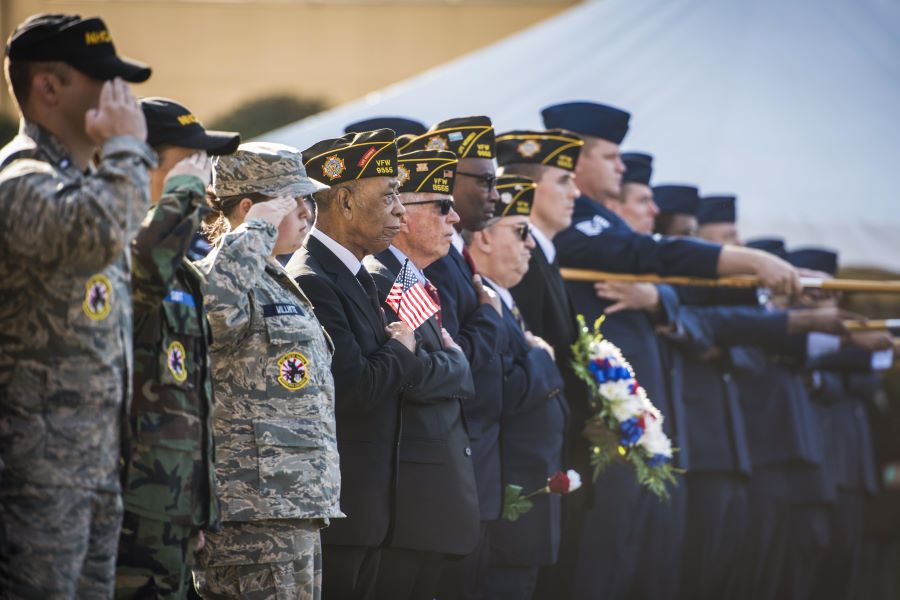 The search for fit in a fulfilling role is often a daunting endeavor. Days upon months spent waiting for contact during a job search can result in frustration, dejection, and ultimately, demoralization. The challenge is no less for college-educated veterans looking to build their careers post-discharge, but a record of military service confers benefits that many overlook.
As the job market grows more competitive, we encourage veterans to recognize the unique advantages their experience confers. Leveraging insights shared by some of the military alums in our network, we offer these four strategies to help job-seeking veterans succeed.

Remember Your Training
The U.S. Armed Forces are famed for the strict discipline and regimentation they employ to mold civilians into soldiers. You can apply the good habits instilled by your training to keep a schedule of exercise, sleep, nutrition, research, and professional conversations.
Tracking this information will help you retain a strong sense of progress as you mount a diligent search for your next role. Leverage your service experience to be methodical and disciplined in your search, keeping track of conversations and available opportunities as you learn of them.
The scheduling and memorization skills you acquired during your service will serve you well in maintaining forward momentum. To make real headway, however, it will take another tool in your box: the team spirit that held your comrades together.
Connect Your Network
Your service no doubt connected you with ambitious, hard-working individuals with a wide variety of backgrounds, skills, and resources. Connect with these colleagues to catch up on how they are doing emotionally and professionally and to ask them to share how they are adapting to their post-service careers.
You can further leverage your natural network of military colleagues by joining online and offline groups to meet other veterans who have successfully navigated career transitions. Ask them to share how they pivoted into their current careers: what resources they used, who helped them, and who in their networks might like to meet you.
These conversations may help you hone your job-seeking strategies and may even connect you with professionals looking to hire. Your exclusive access to veteran networks is a hard-won benefit of your service. Be sure not to underestimate its power to produce results.
Wield Your Wits
Communicating your vision for your career may be your primary challenge as you transition into a non-military role. To mitigate this challenge, research and practice ways to translate your military skills and experience into business or layperson equivalents. You can use this language in conversations and online profiles to express your background and ambitions in a uniquely effective fashion.
"Understand your work style and decide on the life you want, then spend time exploring opportunities across different industries," suggests Brian AiChang, Air Force veteran, Director of Data Analytics at symplr and one of ArcVida's client mentors. "Tell your story by sharing your skills and experiences in professional conversations. Relate your value in action that results in impact - meaning you did action x that resulted in y.
"Your actions as a whole need have a theme: Are you a problem solver? Are you a good communicator? Your actions need to back that theme up," adds Ai Chang.
Equipped with the quick and adaptive thinking a soldier's work demands, you'll use these networking and personal assessment practices to refine your sense of your strengths, ambitions, and learning opportunities. But to make the most of your search, you'll need to lean on another of the fruits of your military experience: patience.
Use Your Tenacity
No one leaves the military without having endured and overcome their share of herculean challenges. The zeal, endurance, and flexibility that empowered you to power through are among the greatest assets you bring to your search and to subsequent roles.
If you're not working at all, spend a few hours a day looking for paying gigs and a few hours a day looking for the right long-term role. If you're working full-time, commit a minimum of 5 hours per week of high-quality time, when you are focused and energized, on your search. But tenacity isn't only about consistent, persistent effort: you'll also need to pace yourself and monitor your progress.
Refrain from spending this time cold-applying to jobs, reformatting your resume, starting a new skills training, or attending online career fairs. These activities tend to waste your time.
"Don't be afraid to take time for introspection," says Kyle Van Vleet, Air Force veteran and Program Integrator at Booz Allen Hamilton. "It's easy to get caught up in the day-to-day of work and life. Take time to sit and be honest with yourself about what is working and what isn't, where you want to go this year, and what goals will help you get there."
Conclusion
Mounting a job search may seem all the more daunting in the post-pandemic world, but the changing landscape presents opportunities as well. Hiring managers need great people more when their teams are smaller. Your skills and experience make you a terrific fit for the right role – regardless of the broader employment landscape.
Shares Kyle, "The job industry is more crowded because of the pandemic, and certain industries are really hurting. But it also means companies are looking for candidates who will make a difference and bring more to the table than a 'normal' hire. Show that you are that candidate."

----------------------
Improve Your Job Search Strategy
ArcVida's diverse and multidisciplinary professionals guide job-seekers through career transition programs that help you highlight your strengths, master your shortcomings, and refine your career ambitions. If you're ready to use these recommended strategies to move from overwhelmed to overjoyed, schedule your free career strategy session today.

Published on 3/16/2021