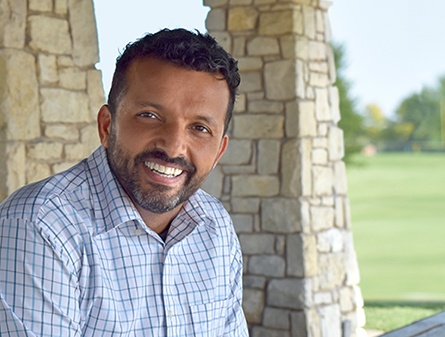 We are pleased to announce that Dr. Aamir Ashiqali has joined our operations team as a cohort leader.
What Dr. Ashiqali Is Bringing to ArcVida
Elissa Unton, ArcVida's founder and CEO says, "Adding Dr. Aamir Ashiqali to our team is exciting because he bring his experience leading and guiding others in their professional development, his leadership and organizational development education and his experience in navigating his own career transitions to guiding our clients. As a fully-remote, technology company, we will also benefit from Aamir's experience at the University of North Texas, Dallas developing online university level programs and migrating traditional university programs to online and hybrid programs."
Aamir had a successful career in teaching and leading in public education before pivoting into strategic technical sales. He currently works full-time as a Business Development Manager and Program Manager for INS, a company that distributes products, offers technical support and provides IT services for wired and wireless machine networking applications to companies in the oil and gas, manufacturing, roadways, smart cities, food and beverage, water and waste water industries.
Aamir shares why he joined ArcVida, "I am excited about joining this team to help as a coach and a mentor because ArcVida's mission and method of helping professionals navigate this process through one of the most stressful life transition is impressive and well-organized. The method is well-thought out and developed through years of coaching professionals through growth transitions." He also added, "I also enjoy this work of leading and facilitating group sessions!"
As a cohort leader, Aamir sees his role as partnering with jobseekers. He says, "Circumstances changes – whether because of a pandemic, a financial environment, a layoff, or family situation. As a cohort leader I'm able to be a sounding board or mentor to facilitate your journey. Within this process, I will help you see your options and create your roadmap, then help you gain momentum and support you in removing your mental or physical barriers to navigating your transition successfully."

Aamir's Career Journey
Dr. Ashiqali attributes his success to surrounding himself with people who were eager for exploration and leadership opportunities. He says, "I was attracted to people in a growth mindset; in various roles when I saw that I wasn't able to have the impact I wanted to have, I would start looking for other ways to grow. As my skills grew, my goals for life and career grew, and I learned to continue to study and strive for the next professional level."
What was your undergraduate experience like? Major, university, minor, extra-curricular involvement?
After high school, I attended community colleges and junior colleges until I knew my major was going to be Child and Family Psychology and had my financial aid figured out. While in school, I took summer courses in arts and music as a self interest and I got more heavily involved in mission work with my community organizations. This also helped me professionally as I grew my network - I felt like I invested in myself and felt re-energized.
Do you have significant military or non-profit experience?
Not significant. But I served in the U.S. Army and did some non-profit work throughout my college and post college. I have worked with Child and Family Services. I volunteer with Catholic Charities and Hunger Busters and I work with disaster relief efforts in remote areas.
What was your first job after college?
I worked as a child welfare caseworker; It was a good fit because it was my passion and allowed me to grow personally and grow in my civic responsibilities. But it wasn't a good fit in that there were no growth opportunities, I didn't make a lot of money and there was no training or mentorship.
How did you decide to go to graduate school?
I knew I wanted to advance my career, my understanding of my field and grow my network through the schooling process. I had many "aha" moments while I was in graduate school. One "aha" moment to note was my understanding of a need for coaching and mentoring throughout our individual journeys and for individuals to succeed in their professions.
How did you pick your job after graduate school?
After graduate school, I felt like my job picked me! I was invited to apply for different positions.
Why and when did you transition into your next job? And the one after that?
I have transitioned from one opportunity to another through invitations, growth opportunities, and seeking better fits. Most pertinent was my ability to network and discuss my strengths and interests so that someone I knew able to say, "this may be a better fit for you."
How is your current role a great fit for you?
In my current role, I get to exercise innovative ways to grow and market our Cisco business. I get to lead a team of young professionals through sales cycles and relationships in joint efforts to grow our business. I also like that I have autonomy to drive business and lead our company into new ways to become more profitable. Most of all, the culture and the leadership is the right fit for me personally.
What are your experience and results from networking?
I love to network. When I meet people, I look for ways to engage in meaningful conversations and look for win-win engagements. When networking, I openly discuss my professional interests and speak about my passions. I look to create long-term relationships and synergies. This has worked for me because people who know me and know my interests engage me when they see a good fit for me and I have often been introduced to new opportunities.
What are some key personal lessons about creating your own career path that you'd like to share with other professionals?
When I reflect back at my own personal journey in creating my own career pathway, some of the key lessons I would like to highlight are:
Keep a growth mindset
Look for lessons in your failures
Remain open to new ways of thinking
Remain open to new opportunities
Explore diverse ways to approach your problems and your questions
Join professional groups that interest you
Meet new people
Stay connected with your personal and professional networks
Take care of your mind, body and soul by feeding them and listening to your needs
Aamir's Career Transition Philosophy
A career transition is not a completion point for most of us. As we evolve, our needs change; what is acceptable at the beginning of a new role will change as we grow.
If you're someone who draws a strong boundary between work and home, your approach will be to develop a professional self. For example, a programmer or a project manager in a cross-functional team is dependent on other people to finish their work on a timeline - before they can work again. So, while they are thinking about how to get better at their role, they have to wait until someone else delivers work before they start again. So they start to draw their boundaries between personal and professional self.
Professionals working in on-call roles, like ER doctors, social workers or teachers, have a harder time creating a boundary because they mentally and psychologically can't cut that tie. For example as a teacher, you're always thinking about the student who didn't understand something or the child who didn't eat breakfast, and can always write a new lesson plan. So, these kinds of roles are often a calling. In a career transition, your work will be leaning deeper into your calling, while supporting your important relationships and personal needs.
------------------------------
You can see more about Dr. Ashiqali's career and follow him on his LinkedIn profile.
Work with ArcVida
Get started with ArcVida by discovering your career Archetype! Your archetype will set you up to receive personalized career guidance from ArcVida mentors and leaders. If you're a current client, you can message him in our private social network. Or, if you're in transition and want to learn more about how ArcVida's team can support you, schedule a free career strategy call today.
Published on 7/23/2020