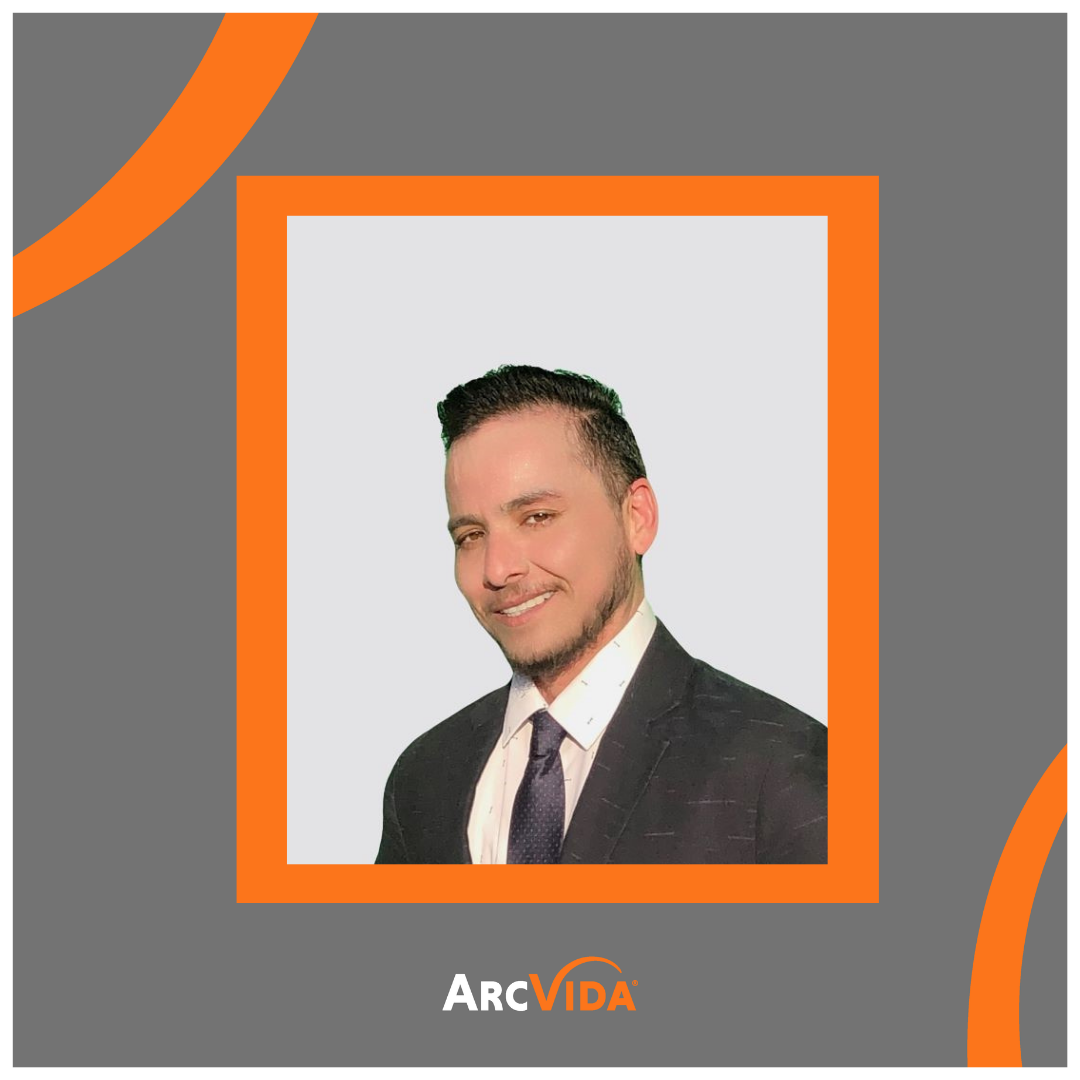 As we grow, we are adding professionals and leaders with a range of experience to our team. ArcVida mentors are trained in our innovative process and have deep experience in navigating professional conversations and transitions. As part of our service, mentors meet privately with our clients as they work to find their next, optimal career move.
We are happy to announce that Calixto Meraz is joining our team as a mentor. He is available as a mentor to anyone who is actively engaged with ArcVida in navigating their career transition. I've known Calixto for many years; few people have traversed personal and professional challenges with courage and grace the way he has. Our clients will benefit greatly from his empathy and wisdom.

About Calixto Meraz
Calixto is currently an Engineering Analysis Center Manager at SoCal Gas. He has worked there for most of his career, progressing internally from more junior to now management roles. He has a strong work ethic, having earned his bachelor's degree in civil engineering from California State Polytechnic University in Pomona and then his master's degree in civil engineering from California State University in Long Beach, while working full time. Calixto later earned his master's in business administration (MBA) from the Marshall School of Business at the University of Southern California (USC), again while working full time.

Functionally, Calixto is a project management and change management leader, who is also skilled in process improvement, operational strategy and efficiency, contract and supply management, quality and risk management and data analytics. He's active in community and alumni leadership roles and is passionate about innovation.
What was your undergraduate experience like?
My undergraduate experience was a bit rocky. I had to transfer from my first-choice university due to a combination of challenges. However, I always have trudged through challenges to emerge a stronger individual as well as spinning them into opportunities. My major was Civil Engineering.

However, I took all my electives in other areas such as Ethnic Studies, Drama, Creative Writing, and Public Policy, because I wanted to enhance my community volunteer and activism efforts. I knew as an engineer, I would be working within a conservative, corporate environment. It was a priority to combine my corporate and engineering profession with serving marginalized communities. This balanced focus has also made me a better leader.
What did you do during the summer? Any jobs or internships that were noteworthy?
Somehow early on I recognized the importance of networking. Networking landed me several key summer and part-time internships. I did not have the luxury of attending the University without working, so I worked throughout all my academic endeavors. Through networking, I feel fortunate to have interned in significant organizations like the Environmental Protection Agency, Bechtel, and UC Berkeley. I also taught in STEM programs. I had short gigs with several temporary agencies that expanded my skill set, exposed me to a variety of corporations and allowed me to develop my professional network. Yes! I was very busy as a student. The side hustle is nothing new to most people of color in order for us to pursue higher education, obtain a degree and beyond.
What was your first job after college?
I started as an intern with SoCalGas which led to being hired as an Environmental Engineer.
SoCalGas was a good fit because of the flexibility of work schedules, the "family" feeling, the broad opportunities for an engineer, the priority with Diversity, Equity & Inclusion and their commitment to the customers and communities in which we serve.
However, SoCalGas is a Utility and early in my career the company and its leadership were was static and valued the status quo. I found it extremely difficult to push innovation or a project. There were very few people of color and women in key positions including the lowest level supervisors. Though the company has made strides as the first of first in Diversity at the Executive level, it was difficult to witness the behavior accepted both as a company culture and especially toward women. Fortunately, the company has made significant strides and has changed drastically. These drastic changes enabled me to stay with the company.
Why and when did you transition into your next job? And the one after that?
I have been fortunate to change positions every two – three years throughout my tenure. I took several lateral developmental positions in fields outside of engineering such as energy efficiency, supply management, quality & risk management and PMO advisory. My broad experience in various disciplines established my expertise as a project manager focusing on PMO and governance for major projects and strategy for new programs and fulfilling their execution.
How did you decide to go to graduate school?
I did not have much confidence that I would be accepted into a master's program in Civil Engineering. Once I was accepted, I told myself that I would just try one semester but did not have the confidence I would make it through. Next thing you know, I was enrolling in my second then third semester and being academically successful. I literally love STEM, engineering and education - and this love is what motivated me to apply for graduate school.
Later, I decided to pursue a Masters in Business (MBA) to strengthen my business acumen and to gain a more global perspective. I also desired to be financially stable through retirement and provide for my family. The USC MBA changed my life and opened my perspective up in ways I never imagined. USC is said to have the strongest alumni network in the US similar to Ivy Leagues. This has been absolutely true for me, and I utilize that network to this day.
Did have any "aha" moments in graduate school? Key experiences or internships?
Throughout my engineering graduate program, I was typically the only one from my ethnic background. This was not an issue only an observation. I think this also motivated me to succeed.
In my MBA program, I found it interesting that students developed both academic and personal relationships with our professors. I wish I would have had that foresight earlier in my program. I was also exposed to the power and influence of USC. USC was the first MBA program to require a global experience. The USC MBA program focuses on "teaching" networking as well as sponsoring many networking events. The guest speakers were CEOs or top executives within notable companies and agencies. My fellow MBA colleagues were talented professionals in a variety of fields. The MBA program taught me that everyone has a talent to contribute even if it is not within my expectation or skill set. This observation allowed me to be less judgmental, more open-minded and motivate others instead of criticizing.
How did you pick your job after graduate school?
My plan was to go into finance in New York. But, I earned my MBA during an economic downturn, so it was not an option to enter into a new field without high risk (especially in finance). However, my MBA led me to my first manager position at graduation.
How is your current role a great fit for you?
The Engineering Analysis Center is a world-class laboratory and research center. This role brought me back to core engineering. I manage the facility and an organization of 75 employees. I am fortunate to have a team of supervisors who are national experts in their areas, including two PhDs. The EAC Manager is a great fit because I can lift engineers from the vortex of analysis and bring to light their aspirations or project through strategy and implementation.
Our team is managing the corporate initiative to be the cleanest Utility in North America through integrating a Mixed Energy Portfolio. This will be achieved by introducing renewable energy and hydrogen into our natural gas infrastructure. We will be the first Utility in the US to achieve this.
What does your company offer that appeals to college graduates in their 20s & 30 & 40s?
SoCalGas sponsored a focus group to explore ways to recruit and retain talent specifically focused on Millennials. Millennials are forcing traditional institutions such as Utilities or the Energy, Oil & Gas industry to rethink workplace environments, telecommuting, diversity of thought and overall innovation. Gen Y, Gen X and Baby Boomers are more prone to stay employed within Utilities because of the security, longevity and opportunities within the same company. Millennials are also pushing the needle towards a more diverse & inclusive workforce. They are less tolerant of toxic or inappropriate behavior. Fortunately, Sempra Energy companies and the Utilities - SDG&E and SoCalGas have always been industry leaders in the area of Diversity, Equity & Inclusion. The fact that SoCalGas recognized and responded to a Millennial workforce shows their awareness and ability to expand and contract in the area of talent recruitment and retention.
How does your company hire/work with our motivated, ambitious, working professional audience?
The reason I have remained at a Utility is the broad range of opportunities. When I've moved between organizations, the changes have seemed like another company. The Sempra Energy companies are global. Yet, each employee remains connected and able to leverage past experience and networks in order to maximize new opportunities. The broad opportunities combined with a workforce of new and experienced generations also appeal to talented candidates.
How are you involved in volunteering or community work?
Community work was ingrained in me, so I started volunteering at an early age. I have been involved with several non-profits over time. Eventually, as I established myself as a professional, my role changed from volunteer to advisory for several non-profits in the areas of startup, operational efficiencies, and financial management. I have focused my volunteer efforts on increasing underrepresented students in STEM careers and on supporting specific marginalized communities. These efforts led me to establish a non-profit, with two other co-founders, focused on retreats for male-identified people to better themselves and evaluate their impact on society - with a lens of understanding patriarchy, feminism, masculinity, and internal growth.
What are your experience and results from networking?
Networking has been a key tool in my success inside and outside of my company. Networking has benefited me not only professionally, but also personally as it allowed me to meet, interact and sometimes establish friendships with people I may have never been exposed to. This provides me the gift of continued growth as a person maintaining an open mind and heart.
What are some key personal lessons about creating your own career path that you'd like to share with ArcVida's jobseekers?
One must truly own their career path – the failures and successes.
Think of professional development as a springboard approach. Know where you want to land and that it may take 1, 2 or 3 positions to get there.
There is a difference between a sponsor and a mentor.
Moving within an organization and seeking a new job outside requires a different strategy.
Networking is critical to landing a new job. You will be surprised how many people at all levels are willing to talk and help. However, it is important to understand boundaries and respect for someone's time.
Set your goal and pursue it rigorously.
Know your journey may change course and sometimes you'll end up somewhere unexpected.
Why are you excited to join ArcVida's team? What attracted you to our mission?
ArcVida is a new concept in the professional coaching realm and I appreciate its service is technology-based and modern while also recognizing employers AND employees are ever-evolving. I also appreciate ArcVida's focus on developing their clients' emotional intelligence with an emphasis on honest and direct feedback within a presumptive framework that clients are capable, high-caliber, talented, credentialed professionals.
I am impressed that ArcVida's approach enhances a jobseeker's personal perspective as well as their external presentation to potential employers. Lastly, the company's focus on diversity, equity and inclusion as a value proposition resonates with me.
What are you excited to bring to help our clients?
My career path is non-traditional with its ups and downs. I am excited to share how I was able to integrate my personal life experience, community activism, academics, networking with my professional growth and successes. It was not an easy path, but here I am.
-------------------------
Connect or follow Calixto Meraz on LinkedIn:
Are You Planning to Make a Career Change?
Get started with ArcVida by discovering your career Archetype! Your archetype will set you up to receive personalized career guidance from ArcVida mentors and leaders. If you're actively looking for your next optimal move and want guidance from professionals like Calixto, find the program that's best for you and schedule your free strategy call today.
Published on 9/28/2020