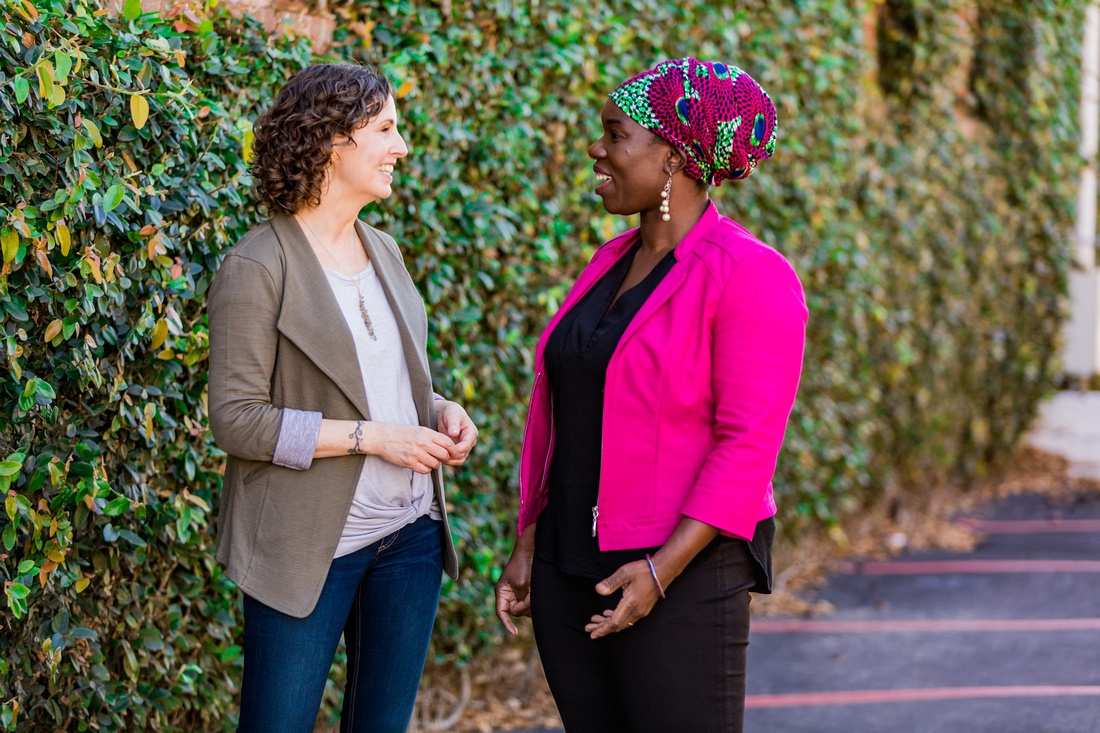 An early action our clients take as they start figuring out their next career step is setting up conversations with a variety of people to hear their stories. Rather than tell others all about themselves, we encourage our clients to act like journalists interviewing a subject: How did this person get from where they were to where they are now? What drives them? What do they like about their career trajectory? What do they wish they'd done differently?

Holding these conversations often seems counterintuitive to clients who believe their first priority should be updating their resumes and applying to jobs (it's not, learn why here). Clients often ask these questions when it comes to having conversations.
What's In It for Me to Have Conversations?
If you're early in your career search, you probably don't have a fluent and succinct answer to the traditional networking question, "So what do you want to do?" simply because you haven't figured it out yet. Interviewing other people about their careers at this stage:
Allows you to develop your networking skills and get comfortable talking about work. This prepares you for more high-stakes conversations you'll have later in your transition process.
Opens other worlds to you. In hearing someone else's story, you can hold up a mirror to discover what about the person's career path is appealing or might OR might not be a good fit.
Encourages you. As one of our Career Pivot clients recently said: "Not everyone has had a clear career path even if it seems like they have from the outside. Several of the people I talked to had definitely struggled at one point or another figuring out where they wanted to go so that was very encouraging for me! "
What's In It for Them to Have Conversations?
Simply put, most people like to talk about themselves. This is especially true when the person asking the questions is genuinely curious. Also:
This conversation takes them out of their day-to-day activities and allows them to reflect on the bigger picture of their life and career. As they talk, they are going to get insights into their story and career path that they wouldn't have otherwise had if they hadn't been talking to a truly curious person.
No one ever found their way to a satisfying career alone. When you ask someone to do something as easy as share their journey or give you perspective, you are offering them an easy way to "return the favor." They remember how they have been helped, and talking to you gives them a chance to be kind and supportive and generous.
Telling their story makes someone feel valued. Story-telling and learning about stories is an important part of being human - some estimates are that people spend up to 30% of their time-consuming stories by reading books, watching TV shows and movies, or listening to podcasts.
Meeting new people is how everyone builds their network. Successful professionals need to meet new people (like you!) as much as you do.
How is Having a Conversation Job Searching?
It's not surprising that having these kinds of conversations as part of a job search feels counterintuitive to many. That's because the dominant narrative around networking involves transactional interactions: What can you do for me? Who do you know? Are you willing to put in a good word?
How to Have Great Conversations and Hear Stories
But no one wants to have transactional conversations: not the person asking the questions - because it feels sleazy - and not the person who agreed to talk - because they feel used. When you hold networking conversations to a higher standard - transformational instead of transactional - both parties leave the conversations changed, even slightly, for the better.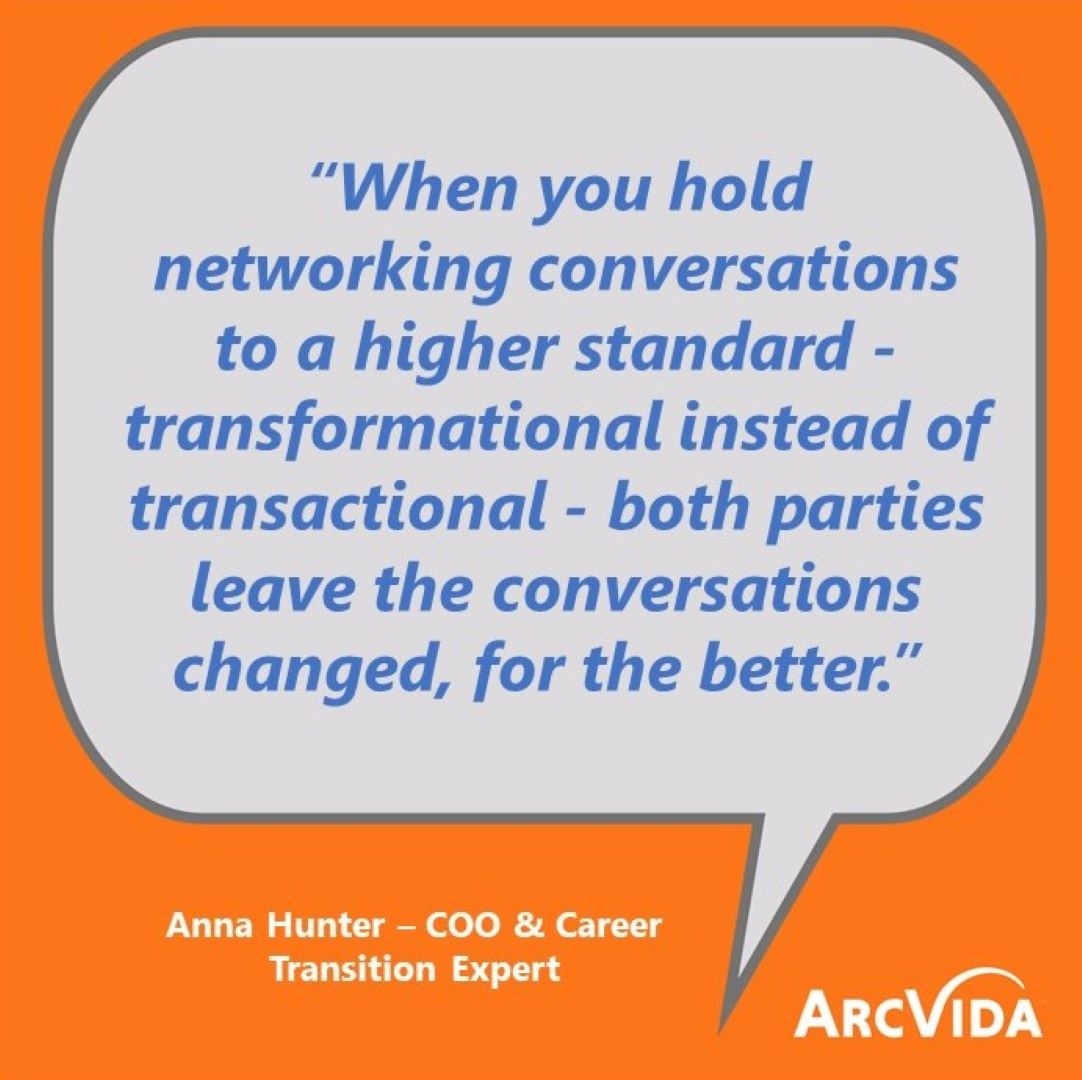 Transformational Versus Transactional Conversation
People talk about networking like it is submitting transactional requests akin to withdrawing money from a bank - one simple ask and one magic response of getting hired into a great job. Ask your sorority brother to introduce you. Or, maybe your mom's friend can get you an interview? And, Your neighbor works there, have them submit your resume. Or, I asked my softball teammate to refer me, but she didn't.
Transactional networking is weak and ineffective because most people don't want to have a conversation where they have to agree to put their own reputation behind your resume when they barely know you and/or may not know the hiring manager. Another reason it's weak is that asking someone to submit your resume or refer you for an interview before you've conducted the right research conversations may land you in an interview for a role you know little about. Even if you end up excited about the role after the interview, you've already shown up in exploratory mode, not excitement mode - limiting the probability of getting hired.
Finding the Right People to Talk To
What careers or lifestyles are you interested in learning more about, or understanding better? Treat creating this list of people to talk to like a research project: What kind of work or career path is fascinating or mysterious? Why is it interesting to you? Where are you enthusiastic about living? How are people creating fulfilling lives for themselves? Your answers to these questions will lead you to Who to talk to?
Talk to People You Find Interesting
If you think you don't know anyone who is leading an interesting life, then start by talking to people who you think are leading a boring life - and ask them the same questions about their career path and decisions. This will help you think about the mirror image of what you want - and may lead you to think of interesting people you do know.
Talk to Other People Researching Career Paths
Talk to other people who are also researching career paths to see who they know that is interesting. If you're already an ArcVida client, ask members of your cohort, or prior cohorts first. Post your thoughts and interests in our social network.
Consider Acquaintances
Consider unusual geography, family, education, pets, or hobbies when you think about acquaintances or friends that might be interesting to talk to.
Consider Those Close to You
How do your neighbors, classmates, or former colleagues support themselves? What are their underlying history and guiding beliefs that lead to this way of work?
Use Social Media
Open your social network accounts and look at people you're connected with to see who might be living an interesting life.
How to Prepare for Career Conversations
Acting like an investigative journalist makes conversations simple to prepare for:
Easier because you don't have to have a super-polished elevator pitch. Instead, you can simply say, "I'm exploring my next steps and would love to talk to you about your career path."
Asking genuinely curious questions encourages people to open up very quickly.
Having conversations like this early in your search guides your thinking and your actions toward a fulfilling career, rather than only your next job.
How to Start Having Conversations
Know that you're offering a pleasant opportunity when you ask for time to talk.
Having a conversation about someone's career path is a positive 30 minutes in what can be a long day of work. It offers the chance for a person to take a step back from the urgency of day-to-day tasks. Especially in a time of uncertainty of the pandemic and social distancing, people welcome a break.
Don't feel guilty about reaching out.
Let your guilt go because it's not serving you. Generous networkers will want to help you by sharing their perspective. Keep in mind that if someone doesn't want to talk to you, they won't respond or they'll avoid scheduling the call.
Use This Phrase
Use this phrase when you're connecting: "Hearing about your career journey and learning your perspective about work and life would mean a lot to me as I'm researching my next move."
What Happens Next?
What we have heard repeatedly from clients is that the results of these conversations are often unexpected and valuable.
As Corinne said early in her Career Pivot, "I'm already seeing the benefit after one conversation, and I think talking to people I already know is making this go smoothly. The conversations are low-pressure and I feel comfortable asking detailed questions."
After completing this set of research conversations, Anders said "As strange as it sounds, it was really valuable to hear about some of the bad work experiences that other people have had. Almost everyone I talked to mentioned at least one job they had at some point in their career that they didn't like. It took me until this week to realize that I'm not the only one among my peers to have had low points in my career."
--------
Are you Ready to Move Your Career Forward?
If you're ready to move your career forward, schedule a free strategy call today. 39% of the people we talk to end up trying our supportive career guidance service.

Published on 6/19/2020